Puppy Classes Melbourne
confidence & resilience
(For dogs 8 – 20 weeks of age)
Puppies are one of the most adorable, energetic and curious things on the planet. However, without proper care, puppies can turn your world upside down, creating a lifetime of bad habits.
The Puppy Pre-School classes are delivered by our certified trainers and designed to help guide you through the first few weeks and months that are so critical to your puppy's development and future.
You and your family will learn how to prevent bad behaviours, strengthen good manners and prepare both you and your dog for a long life of mutual understanding.
A maximum of six puppies are hosted in the only licensed and registered dog training facility in the inner southeastern suburbs of Melbourne.
The course consists of six sessions, the first of which is a compulsory theory lesson and then five themed, practical classes which introduce your puppy to an array of real-life situations.
LOCATIONS:
Ormond @ Woofers World
Albert Park @ Port Phillip Animal Hospital
**NEW** Burwood @ The Dog Dazzlers
ENQUIRE NOW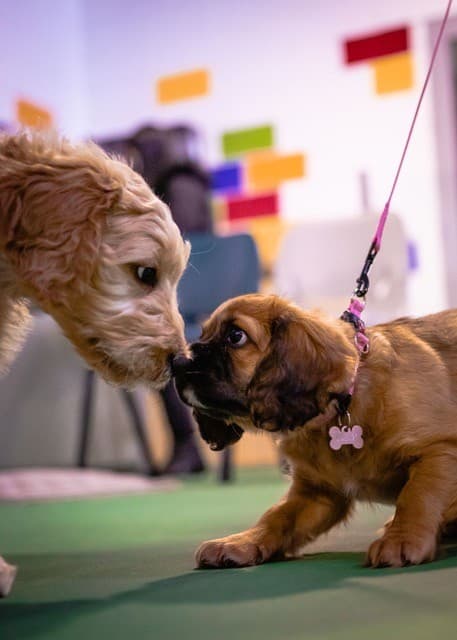 Class Content
The Puppy Pre-School course consists of 6 sessions which include the following;
Session 1 – Theory Class
Sessions 2 to 6 – Topics covered
Equipment & Leash Manners
Body Language & Behaviour
Cafe Canines & Capturing Calm
Visiting the Vet & Groomer
Exposure and Socialisation
These themed classes will help you to teach your puppy new real-life skills to put in to practice when out and about. The lessons are aimed to impart a sound understanding of dog behaviour, training techniques, to build confidence, resilience and useful practical handling skills.
Time
Theory Class
Every Tuesday evening
6pm – 7:30pm held online via Zoom
Practical Class Times Available
(attended once a week)
Monday 7:10 – 8:00 pm
Monday 8:10 – 9:00 pm
Tuesday 7:10 – 8:00 pm
Wednesday 6:30 – 7:20 pm
Wednesday 7:30 – 8:20 pm
Thursday 6:00 – 6:50 pm
Thursday 7:00 – 7:50 pm
Saturday 9:00 – 9:50 am
Saturday 10:00 – 10:50 am
Cost
Standard Program – $260
Advanced Puppy Program – $390
Private Puppy Program – $340
Saturday Social
Perfect for extra socialisation time for your puppy. Held at our outdoor training grounds at Caulfield North.
Every Saturday 1:00 – 1:30pm & 1:30pm – 2:00pm
Only available to Puppy Pre-School students
Three Options for
Puppy Training
Puppy Pre-School
$260
Group Class Training
5 x 50 minute small group practical lessons including topics such as body language & behaviour, at the cafe, leash manners and at the vet and groomers.
Free training starter pack
Advanced Puppy Program
$390
Private & In-Person Training
5 x 50 minute small group practical lessons
Free training starter pack
Four weeks crate or playpen rental
1 x Onsite private consultation
1 x Saturday puppy social
Private Puppy Pre-School
$340
Private & In-Person Training
3 x 50 minute onsite Private Consultations
Free training starter pack
View Our Pricing